Single Mode MTP-MTP Trunk Cable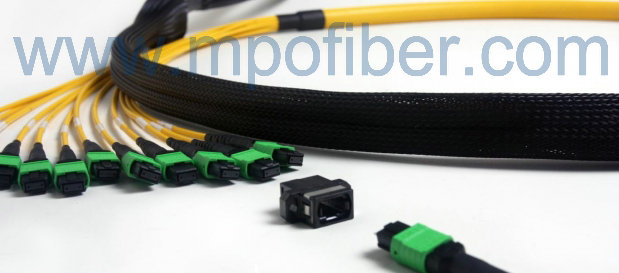 Product Description
Single Mode MPO Multi Trunk Cable Assembly
Vkplus's MPO/MTP Multi Trunk Fiber Cables are multi-fiber cables with MPO connectors terminated at both ends, used for backbone cabling. It is especially suitable for the areas that require high density, rapid deployment and high performance like data center. Vkplus's MPO Trunk assemblies are available with or without pre-installed pulling eyes for fast and easy installation, yet provide high flexibility on unplug and re-use.
Vkplus's Multi Trunk cable assemblies pre-terminated with 12 or 24 ferrule MPO/MTP connectors and offered in various lengths. Options of terminated in 12, 24,36, 48, 72, 96, and 144 fiber round micro core cable which is space saving and delivering excellent bending flexibility.
Jacket available in riser rated OFNR, plenum rated OFNP, LSZH, PU.
Available fiber: Corning ClearCurve 9/125 (OS2,Yellow), Corning InfiniCor 62.5/125(OM1,Orange), Corning ClearCurve 50/125 (OM2,Yellow),Corning ClearCurve 50/125(OM3,OM4,Aqua).
Features:
Available in 12, 24, 48, 72, 96, 144 fiber
Cable jacket options of OFNP, OFNR and LSZH
Straight Polarity in standard (Pair Flipped Polarity and Cross Polarity also available)
Available with pulling eyes
Use 12/ 24 ferrule MPO connector for termination
All Vkplus's MTP (MPO) cable assemblies in this document are having Straight Through Polarity (A-A, B-B). Cross Over Polarity (A -B, B -A) or Pair Flip polarity is available